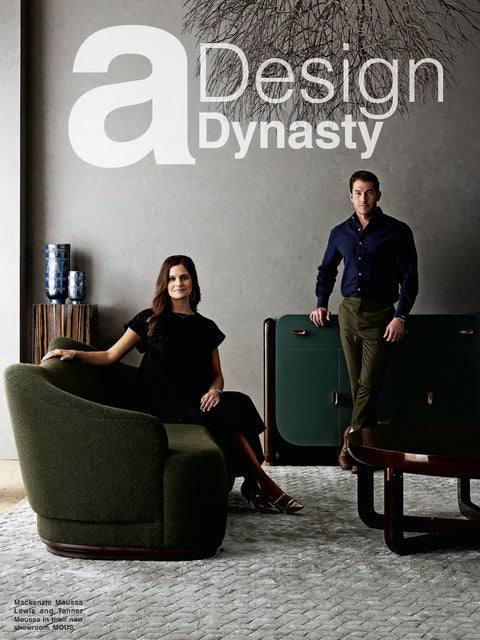 A Design Dynasty - PaperCity Magazine
Brother-sister Duo Tanner Moussa and Mackenzie Moussa Lewis, cut their teeth at the family's legendary furnishings business. Now they're all grown up and launching an exciting new furniture brand and showroom of their own, MOUS, which debuts this month.
Tanner Moussa and Mackenzie Moussa Lewis might be young — he's 34, she's 32 — but this brother-sister duo are hardly new kids on the block when it comes to the world of furniture design. You might even say they're seasoned pros. From the get-go, their father, Arteriors founder Mark Moussa, immersed them in the family business he started in 1987, which is now a major force in the global furnishings industry. "We were 10 years old, working in the summers in the warehouse, wiring lamps," Tanner says. In high school, their father took them on buying trips to North Carolina's High Point Market, and by the time they joined Arteriors full-time after college, they were traveling the globe sourcing new products and building partnerships with artisans in far-flung locales. "The vocabulary of design was like a second language for us," he says.
That design vernacular began to shift during the pandemic. "While traveling to trade shows, we noticed that people were changing their buying behaviors and using new technology and creative ways to think about selling furnishings in the industry," MacKenzie says. "The greater world was changing, too, and we knew this was a time to build something with our own point of view." 
Mid-September, Tanner and Mackenzie will launch their own brand of furnishings and accessories — charmingly called MOUS (pronounced "moose") — the nickname they have gone by since childhood. The Narrative Arc debut collection channels their extensive design knowledge, travels and cultural experiences into a cohesive vibe that's classic, contemporary, and totally MOUS. "The collection is the way for us to express the design eye we've developed over so many years," she says. 
 It's an ambitious start, with 24 pieces including case goods, upholstered seating, and ceramic accessories. With shapes that are often rounded and sculptural, the collection references European design movements such as French Art Deco, along with refined architectural forms inspired by travels. There's a nod to the family's Egyptian roots with furniture details suggesting old Egyptian scrolls and patterns and etchings on ceramic vessels inspired by hieroglyphics. The siblings credit their grandfather, who was in the wholesale furniture business, for helping expose them to different cultures. "A worldly point of view was a cornerstone of our upbringing," Tanner says. Mackenzie's love of intricate artisan jewelry from India can be seen in the furniture's etched, burnished-brass hardware. "The details are important and intentional throughout the collection, and we think people will appreciate them," she says. One of her favorite pieces is the Camber chair, which is tailored in green leather and velvet and perches on angled brass legs inspired by the shape of elephant feet. The Diptych desk — a favorite of Tanner's — is hand-covered in ivory vellum panels with brass detail. The Radial cocktail and side tables are of Macassar ebony marquetry and brass joinery. This is a batch-made collection with case goods crafted by international artisans, with the upholstery hand-stitched in American workshops. "It's really a collaboration with our artists," Tanner says. 
Tanner and Mackenzie, who describe themselves as best friends, are busy at work on new collections, pinning ideas on the board. "We are always designing. It's in our blood," Tanner says. You can see the collection by appointment at MOUS, their new 4,000-square-foot showroom and studio near the design district. Narrative Arc, at MOUS, 2611 Farrington.
Article by Rebecca Sherman
SEE THE FULL STORY - PAPERCITY MAGAZINE